Alexa skill Radio Browser - TuneIn alternative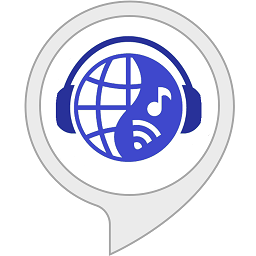 Radio Browser Skill
The Alexa Radio Skill with your own favorites list.

Select stations from a database of 27,000 entries.
Listen to Internet radio stations in many languages and from many countries. Select by language, country, keyword or station name.

The selection of stations in the favorites list is done by number, or zapping.
Perfect for foreign Internet radio stations, or for web radio whose names Alexa and TuneIn can not recognize correctly.

Alexa RadioBrowser Skill can also play private HTTP Icecast streams. RadioBrowser is an alternative for TuneIn when it comes to unencrypted HTTP streams. Only a few skills can play internet radio without SSL.

"Alexa Radio Browser" – Immediately starts the last played Internet radio station.

During playback: "Alexa next" or "Alexa previous" - move through the favorites list .

"Alexa say Radio Browser 5" - Switches directly to the web radio under favorite number 5.

When switching, the name of the station is read out first. After that, the playback starts. However, you also have the option of changing the name or deleting it completely. In this case, the name is not read out, but the playback of the radio stream starts directly. This function is very important for Internet radios whose language does not support Alexa. The station name is first taken from the Radio Browser database when it is inserted. If the name is too long you can shorten it. If the name has unreadable characters, then you can enter a transcription.

Radio stations are added to the Radio Browser Skill from a database. You don't have to worry about the radio streaming URLs. Also the icons of the radio stations are automatically taken over database (important for devices with screen or for the Alexa app).

You can also insert a custom streaming address by hand. e.g. from your own stream that you stream to the Internet from home, or if the desired web radio is not included in the Radio Browser database, but you know the streaming URL.
The skill is still very fresh and I am still working on this website. There may still be bugs that I haven't caught yet. Therefore, if something is not working, please let me know via the contact form.
Alexa Skill Radio Browser Default Station List
| | |
| --- | --- |
| 1 | Dance Wave! |
| 2 | Radio Paradise (320k) |
| 3 | SomaFM Groove Salad |
| 4 | #1980s Zoom |
| 5 | Deep House Lounge |
| 6 | Beatles Radio |
| 7 | Dance Wave Retro! |
| 8 | .977 80s |
| 9 | Ambient Sleeping Pill |
| 10 | BBC Radio 4 |
| 11 | Classic FM UK |
| 12 | .977 Hitz |
| 13 | Cryosleep |
| 14 | SomaFM Secret Agent |
| 15 | Bassdrive |
| 16 | Infowars |
| 17 | BBC World Service |
| 18 | Fox News Radio |
| 19 | Reggae Radio Rastamusic.com |
| 20 | .977 Country |
| 21 | 181.FM - Old School HipHop/RnB |
| 22 | KEXP 90.3 Seattle, WA |
| 23 | LBC Radio |
| 24 | SomaFM Underground 80s |
| 25 | Ghana Music Radio |
| 26 | talkSPORT |
| 27 | Radio Caroline |
| 28 | Linn Jazz |
| 29 | Your Classical - Relax |
| 30 | VOA Voice of America Global English |
| | |
| --- | --- |
| 31 | .977 Smooth Jazz |
| 32 | SomaFM Drone Zone 128k MP3 |
| 33 | SomaFM Space Station Soma (AAC) |
| 34 | 101 SMOOTH JAZZ |
| 35 | RTÉ Radio 1 |
| 36 | SomaFM Deep Space One 128k AAC+ |
| 37 | LBC London (National stream) |
| 38 | AP Radio News |
| 39 | Planet Rock |
| 40 | SomaFM Left Coast 70s |
| 41 | TuneIn - Hot Hip Hop and R&B |
| 42 | 1.FM - Deep House Radio |
| 43 | Heart London 106.2 [MP3] |
| 44 | SomaFM PopTron |
| 45 | SomaFM Lush |
| 46 | talkRADIO |
| 47 | BBC Radio 2 |
| 48 | Capital FM London |
| 49 | Outlaw Country Radio |
| 50 | Frisky |
| 51 | .977 Oldies |
| 52 | .977 The Mix |
| 53 | 1.FM - Chillout Lounge Radio |
| 54 | NonStopOldies.com |
| 55 | Chill Out Zone |
| 56 | BBC World Service |
| 57 | SomaFM Beat Blender |
| 58 | Disco Studio 54 |
| 59 | Linn Classical |
| 60 | NPR 24 Hour Program Stream |
| | |
| --- | --- |
| 61 | Asempa FM 94.7 Accra |
| 62 | TuneIn - Classic Hip Hop |
| 63 | Okay 107.7 FM |
| 64 | Jazz Lounge |
| 65 | 1.FM - Absolute Country Hits Radio |
| 66 | Joint Radio Reggae |
| 67 | Best Smooth Jazz [BSJ] BSJ.FM |
| 68 | .977 Comedy |
| 69 | Newstalk |
| 70 | WNYC-FM 93.9 New York Public Radio |
| 71 | SomaFM Indie Pop Rocks! |
| 72 | Kiss UK |
| 73 | CNN Radio |
| 74 | SomaFM The Trip |
| 75 | Big R Radio - 80s Metal FM |
| 76 | SomaFM Metal Detector (128k AAC) |
| 77 | 1.FM - Blues Radio |
| 78 | Smooth Radio |
| 79 | ABC NewsRadio MP3 |
| 80 | 24/7 Bach |
| 81 | BBC Radio 1 |
| 82 | SomaFM Suburbs of Goa (AAC) |
| 83 | 181.FM - Highway 181 |
| 84 | Homeboyz Radio |
| 85 | NME 1 - Classic & New Indie Alt |
| 86 | Digital Impulse - Ambient Nature Sounds |
| 87 | Free FM Bombay |
| 88 | LBC London (London stream) AAC |
| 89 | Infowars.com Live Events |
| 90 | 1.FM - Classic Rock Replay Radio |
| | |
| --- | --- |
| 91 | 1.FM - Amsterdam Trance Radio |
| 92 | BBC Radio 5 Live |
| 93 | SomaFM Sonic Universe 192k MP3 |
| 94 | Blue Marlin Ibiza Radio |
| 95 | One Love Hip Hop Radio |
| 96 | Chilltrax |
| 97 | Classic Rock Florida HD |
| 98 | BBC Radio 6 Music |
| 99 | 1.FM - Bay Smooth Jazz Radio |
| 100 | Nigeria Info |